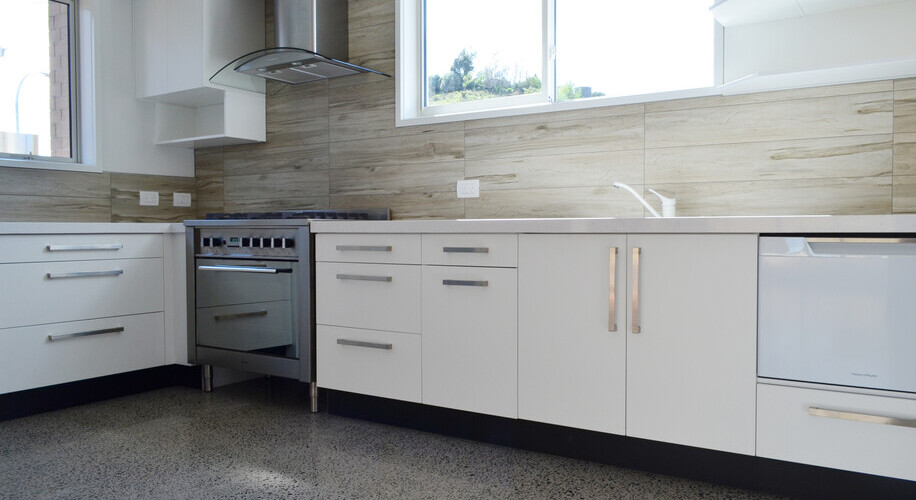 Builders Cleans - New Home Grooming
When your clients enter their newly completed home for the first time, they are realising a dream (There are no wood shavings, dust or dirty joinery in dreams)
Prestige Home Groomers will help you present the dream as it should be... flawless! Your reputation hangs on first impressions.
So when your new homes are viewed for the very first time, they need to be immaculate. Unsightly dust, wood shavings or dirty windows can make even the most exquisite design look shabby. Not only that, you don't want the new owners uncovering imperfections days, or even weeks, later. We make sure that doesn't happen.
As experienced home groomers we pay attention to the smallest of details. For instance, when it comes to windows we don't just clean the glass – we clean the joinery and the tracks as well. We go beneath the surface - into the corners of cupboards and underneath shelves.
And because we go over every single millimetre of the property we can alert you to any maintenance or repair issues no matter how small. If there is a screw cover missing inside the pantry, we will let you know about it!
We don't just clean new homes, we "present" them.
By the time we leave not only is everything gleaming but all the cupboards are neatly closed and the are taps lined up so that when the new owner steps through the front door, it is everything they dreamed it would be.
Communication and flexibility
We know that building projects don't always run to schedule. So we keep in regular contact to see how things are progressing and are happy to reschedule if necessary.

Consistent pricing
We charge per square metre (apart from exceptional circumstances) so you know what to expect right from the beginning. No time-consuming quotes. No surprises. You can factor it into your budget as soon as the plans are drawn up.
Maintenance and repairs
Because our service is so detailed we see everything. That means we pick up on any repair and maintenance issues that may have been overlooked and bring them to your attention straight away. That's why we recommend home grooming as close as possible to handover to your client while still allowing time to rectify any faults. We are also happy to come back for a final clean after any maintenance work is carried out.
Referrals
If you have a request that is outside our scope we can point you in the right direction. Because we know the industry inside out, if we can't help you we know someone who can.
Ongoing service
We appreciate how important it is for you to have your show homes looking at their very best at all times, they are the advertisement for the quality work which you offer to your clients. We are able to provide a regular cleaning service for your show homes to keep them looking pristine and well presented. We can also keep your office looking spick and span should you require us to do so!
Windows inside and out
Joinery cleaned- inside and out
Tracks of all ranchsliders, doorways and windows thoroughly cleaned
Walls, doors, door hardware, skirtings and sills all dusted and wiped
Full clean of the kitchen and all of its appliances
Full clean of bathrooms and fittings
Full clean of laundry and fittings
All advertising stickers and labels removed
Tiled areas cleaned
Clean of all floor areas to included vacuum and mopping
Complete clean of the garage, which includes of the interior and exterior of the garage door.
Report on any maintenance or repair issues that have been noted at the time of our service.
We are also able to provide other services to include water blasting of drives and paths, exterior house wash should that be necessary and removal of rubbish. These extra services can be discussed at the time of booking as they may not be required on all jobs and are not included in our standard m2 rate.
We are able to offer you a service tailor-made to your specific needs should our standard home grooming service differ to what you require.